So the question has been popped, the answer was "yes" (phew!) and the ever growing list of things to sort out is being worked through.  Whether you're trying to do it all yourself or utilising the skills of a wedding planner, relatively early on in the process you'll start tackling the wedding reception.  Where will it be?  How many guests do we need to cater for?  Can we sit Aunty Janet near Uncle Keith without things ending very badly (again)?  But you'll also be wanting music – and this is where our guide comes in.  If you work through this guide as methodically as you rework your table plan you won't go far wrong – trust us, if there is one thing we know at High Row it is wedding reception music and we want yours to be just right too.
Step 1: Decide when and where you'll want music to be played
Seems obvious right?  But this step is often overlooked as it is very easy to assume that once the wedding itself is over, you'll simply need music for the first dance and the preceding festivities.  Whilst this is correct, you might also want to consider whether you want music playing during the drinks reception – and if so, what type of music will suit your type of reception.
Two subtle and fittingly romantic approaches which have retained their popularity throughout the many changing trends over the decades have been that of pianists and harpists.  The song choices themselves have become more modern but the desire for background music during the period before the wedding meal, (and often the speeches) where the guests mingle and the newly married couple begin to relax into their big day remains very popular.
You might not want or need this at your reception and if a unique ambience isn't important to you then you might settle for the venue's speaker system to play some music for you – but if you see it as a vital component then it won't surprise you to hear that we'd very much recommend speaking with us about live options which are likely to be more affordable than you may first think.
Step 2: Get your (licensing) act in order
There is nothing that says weddings quite like the Licensing Law 2003.  But unfortunately there are some boring details that have to be considered so that you manage your own expectations.  You can treat this step as the equivalent of asking your florist for flowers in December that simply aren't available in Winter.
One thing we sometimes hear that wedding parties fall foul of are essentially noise curfews.  These can sometimes be in place in built up areas to protect local residents under the Licensing Law and can also apply in hotels where you don't have the whole venue booked out for yourselves.  So if you're a couple who are wanting to dance well into the night you will need to double check that the licensing allows this and you're not going to be asked to "keep it down" or even worse, "stop" at 11:00.
Another thing to watch out for here too is a loophole which was closed in 2015.  The restrictions now also apply to recorded music, so a late night DJ set will still be covered by the same law.  But don't worry, a lot of venues have this covered or some of the more obscure or less popular venues can apply for temporary event notice – but it is always worth checking.
Step 3: Sound things out
You'll hear many muso's remarking on the acoustics of a particular venue but this really can make a difference.  If you're not careful, your wedding reception music set or playlist will end up sounding like it is being delivered through a fairground bumper car speaker and you'll swear you heard someone ask for "one more rider, just one more rider" after the Ed Sheeran song you both love was barely audible.
This can be a difficult thing to gauge if you're not lucky enough to be a sound technician so it is worth speaking to the venue and also asking anyone you know who may have been to an event there before.  Another method is to check online reviews but you could also ask us at High Row as our acts have played in so many venues the likelihood is we'll have the answers you're looking for.
Step 4: Keeping everyone happy
This is achievable.  But the best way to achieve it is to make sure that the music and method of delivery that you choose is what will make you the happiest.  Sounds corny?  Maybe, but in the case of a wedding day it really is true.  Everyone you're inviting is going to be there to celebrate your day and when people see you enjoying the wedding reception music it is very contagious.  An easy trap to fall into is playing "straight down the middle" with every shot which means that you can end up with something that can end up feeling and in the case of music, sounding formulaic.  Most couples want their special day to be a bit different so if you love indie rock we'd suggest you go for it.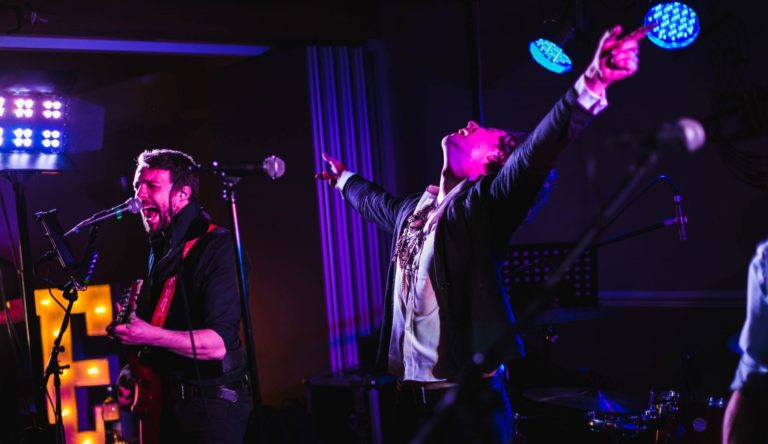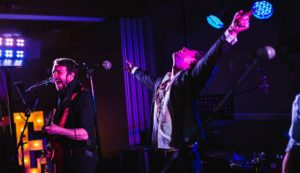 If you make this brave decision and opt for one of our acts they will work closely with you on a core playlist so that your "must have" songs are delivered and then the band will use their experience to read the room and get as many people involved and dancing as possible – because you're not just paying for their performance but also their experience and professionalism as musicians.  So will grumpy Uncle Ted like it when the band plays some Arctic Monkeys?  You might be surprised at who is at the front playing air guitar……
Step 5: DJ or band?
This is often one of the hardest decisions you'll make if you're unsure.  A lot of people we work with know immediately that a band is the only thing they want and it is our job to help them to find the ideal fit.  But many other people sit on the fence and have often mainly been to wedding receptions with DJs in the past – so booking a band, particularly if they've never seen or heard them is viewed as risky.
So let's be clear from the off.  We're not completely biased here in favour of live bands and musicians as we also represent DJs too with a host of options including the addition of a saxophonist to accompany the DJ which is an amazing experience.  We can help ensure that you choose the right DJ for your wedding reception music.
But if you decide to go for a band at the reception then the seeming complexity of choice can be overwhelming.  And this is where we help – as musicians and vocalists ourselves we carefully curate all of the acts we represent, taking time to understand their style, their vibe, their personalities, their experience and their catalogue of songs.  We then speak with you about all aspects of your event and can usually offer you a number of options.  You're then able to listen to the bands on our website and in most cases you can watch them perform with a range of videos too.  So it's not as scary as you might first think.
Step 6: Playlists
Some people are fine to provide a very loose brief to a DJ or band at their wedding and let them "do their thing" and take some requests on the day – whilst this freedom is welcomed by a lot of acts you might fall into a more prescriptive bracket.  So we suggest the following three categories for your wedding reception music :
The Must Playlist
Other than the first dance there might be a small number of songs that are very special to you and will make your day even more memorable if they are performed or played.  Providing these upfront will help the act put together their wider setlist.
The Please Playlist
It is becoming more commonplace for couples to ask for suggested songs on their RSVPs which is a great way to personalise the wedding for your guests too.  So whilst this list isn't a concrete guarantee that each suggestion will be heard, it will give the band or DJ an excellent overview of the demographic that they will have in their audience.
The Don't Playlist
Whilst this one might seem a little draconian or odd it can also avoid emotional faux pas.  An example might be the exclusion of a song that has been played at a loved one's funeral in recent months (Robbie Williams, Angels often falls into this category).  Another might be the first dance choice of one of the couple's first marriage or perhaps a song sung on the terraces of the groom's beloved football team's fierce rivals.  As music is so emotive, when coupled with the emotions of a wedding and in some cases a few glasses of wine, dropping one of these songs can sour the mood.
Step 7: Speak to the act and relax
Once all of the above steps have been worked through it is important for you to speak with your chosen DJ and/or band directly.  All of our acts are very personable, approachable and experienced at performing at wedding receptions.  Many of the concerns that you might have they will no doubt have come across before and they will be able to offer you the reassurance you require in terms of arrival times, set up procedures, equipment, space requirements and everything in between.
Other than the setlists mentioned above, when choosing a band, breaks need to be built into the schedule as singing for four or five hours non stop would even be a stretch for legendary "long gig masters" such as Bruce Springstein, Eagles and The Cure who regularly exceed the three hour mark – but even they take a short break before an encore.
These breaks can either be quiet or the band or venue can play some background music or continue with some dance tunes whilst the band have a rest – but some quiet moments can work well for older guests and provide some "light and shade" to the occasion so that when the band come back on for the next session everyone is raring to go again.
So there you have it – 7 steps to help you choose your wedding reception music.  A vital component for one of the biggest days of your lives can be assured if you follow our advice.  But there is one unofficial step which we've left out which we'd love for you to include and that is to contact us at High Row Music as we can take a lot of the hassle away from you and provide you with an unrivalled friendly and professional service.  We'd love to hear from you and wish you every happiness in your married lives.  
You can email us at [email protected] or call us on 0800 772 3906 today.