You can be forgiven thinking that with a big voice comes a big ego.  After all, it takes a lot of courage to stand in front of a crowd and sing.  Many of us only really open up our vocal chords in one of three situations: –
In the car, alone

In the shower or bath (probably alone)

Doing karaoke – not alone but usually lubricated with some top shelf liquor
So what about those singers with the perceived big voices and big egos?  Mariah Carey is one of the most famous contemporary "divas" and often clubbed together in the esteemed company of Aretha Franklin, Whitney Houston and even Madonna – but not always for all the right reasons.
The likes of Elton John, recently portrayed wonderfully by Taaron Egerton in the film Rocketman shows that the people behind the big performances aren't always what they seem.  Quite often, those behind the impressive on-stage personas and voices are very different once they take off the feather boas, war paint and boots and are surprisingly down to earth, modest and even introverted.  Perhaps the performance is entirely that – an escapism for both performer and audience.
Marcus Groundwater is one of the two co-owners of High Row Music and is a professional singer.  His modesty can be summarised very easily using the research for this very piece as an example.  After we'd gone through his history and some high points of his career before and since forming High Row Music, only then did he begin sending messages about some of the things which had simply slipped his mind.  To most of us, they would probably be front and centre in terms of our CV but Marcus and his business partner Matt are renowned for being so grounded, affable and approachable that despite them both literally being the centre of attention during some singing performances they wouldn't dream of being boastful about their career highlights.  
Marcus describes his family as "modestly musical" – but more so on his mother's side.  His maternal grandfather was the most musically gifted and was himself a singer in the local choral society.  This itself didn't particularly affect Marcus as a child but he does remember one significant gift given to his brother by his grandparents which he coveted then and if he's honest, still does now – and that was a beautiful leather bound copy of Handel's Messiah.  We're sure it can't be one of the very scarce versions worth over £2,500 though Marcus so don't feel too bad.  But this book and his grandfather's musicality set a seed which would germinate very soon when Marcus began to attend Ripon Choir School.
Unlike many singing-based careers though, Marcus didn't follow a traditional route.  His parents were attending a rugby event whilst Marcus was a day student and the rugby situation resulted in him staying over the weekend.  At a young age and with little else to occupy him, Marcus took the opportunity to attend voice trials for the cathedral choir and he quickly impressed those with a keen ear for young talent.
Marcus became one of the 18 trebles in the choir and this essentially became a full time job as he juggled his singing, learning and the challenge of trying to master two new musical instruments.  Marcus' parents were very proud and as a choir member the reduction in school fees was the icing on the cake.  But Marcus does remember his weekly diary being quite gruelling and it looked something like this which is a lot for a boy of eight or nine years old by anyone's standards: –
30 minute practice of the first instrument

Breakfast

Lessons until 4pm

45 minutes of choir practice

Evensong

30 minutes on the second instrument

Homework

Bed

Then on Sundays he took part in three cathedral services
This level of early dedication paid off in many ways though.  As Marcus' voice began changing around 12 years old he was delivering a lot of solo performances and at one point there was even talk of him recording a record – but this was something his parents weren't keen on so the path was clear for Aled Jones to become the nation's favourite choir boy over the next decade and beyond.
Marcus' high level of vocal accomplishment resulted in him attaining a coveted scholarship at Rossall School in Lancashire, following in the footsteps of Thomas Beecham.  Marcus still maintained a keen interest in music but focused more on his piano and clarinet achieving a grade A diploma in the latter.  He recalls less singing at this time and whilst he did perform in the choir as a baritone he broadened his interests as he discovered cricket, rugby, the oboe and even the bassoon.
During the early 90s other musical influences were added to Marcus' aural tapestry which may seem at odds with someone who was classically trained to sing to a school level.  The eclectic mix of 808-based house music, powerful and austentatious vocal performances by Freddie Mercury and Queen and the "baggy" sound of "Madchester" bands including Happy Mondays, Stone Roses, The Soup Dragons and Inspiral Carpets – all providing a more rounded view of music and an appreciation of different vocal styles that would serve Marcus well in his future career at High Row Music as he worked alongside such a huge array of talent
.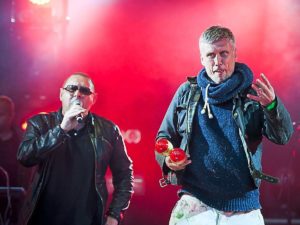 After a short stint at Newcastle University studying music, Marcus swapped subjects and campus and studied History at York St John University.  But he still kept one toe dipped in singing, performing now as a bass singer at Ripon Cathedral.
Marcus then worked in the telecommunications industry (like a lot of history graduates!) but the exciting part was the fact that it was in cities such as Dallas, Los Angeles and Chicago.  And it was his experiences in these cities which fired his love affair with jazz.  Marcus fondly remembers jamming sessions in jazz clubs in the infamous Deep Ellum district of Dallas which to this day is renowned for live music in Texas.  He describes his input in these sessions as "a crooner" singing in the style of iconic Rat Pack members such as Dean Martin and Joey Bishop.
On his return to the UK, Marcus was focused on being in his own jazz group and built what is now "Frankly Jazz" with his friend Jonny – realising their dream by performing regularly on Fridays at the now sadly closed Old Deanery in Ripon as residents.
Frankly Jazz have had some incredible experiences including an appearance on ITV in the long standing soap opera Emmerdale.  And Marcus is also particularly proud of this performance with the world renowned Egyptian musician and songwriter Hamza Namira in Trafalgar Square.  This was part of a television programme where traditional Arabic songs were fused with different genres for a more contemporary musical experience.
Marcus and Frankly Jazz have also rubbed shoulders with the ex footballer, now Hollywood actor Vinnie Jones.  Mr Jones was performing his "Evening With" sessions and the band had the privilege of accompanying him at Elland Road in front of thousands of spectators – certainly a more befitting soundtrack when compared to the infamous ghetto blaster used by Vinnie and the Crazy Gang of Wimbledon in the early and mid 90s.
If hard-tackling Premier League footballers aren't your thing then how about one of Blackpool's finest exports – Jethro Tull?  As recently as 2019, Marcus performed as a member of the choir who joined the band at a memorable performance at Ripon Cathedral.  
And if you're still not impressed then a huge badge of honour for any "muso" in any genre saw Frankly Jazz named as a BBC Introducing band in 2018 amongst the now notorious Billie Eilish, Khalid and Lewis Capaldi.  A remarkable list of experiences and achievements – thank goodness Marcus' parents were into their rugby so much.
So what about the transition into High Row Music – well that also started a little by chance.  Marcus saw a job vacancy at Ripon Cathedral for a baritone bass singer which then resulted in him taking professional singing lessons with his now friend and business partner Matt Lennox who is an esteemed vocal coach.  As they began chatting more about music and the industry they realised that they were very well connected and using Matt's connections and classical training background and Marcus' commercial experience and different connections – they had the makings of a business.
And it is Marcus' (and Matt's) passion for music and singing that comes through when you speak with him.  Music is everywhere in his history and his present.  In a typical car journey Marcus explained that he can be listening to The Kings of Leon and then switch to a Beethoven Piano Concerto almost seamlessly.  He lights up when lauding over the understated baritone voice of John Grant at a gig he attended in Sheffield in 2020 but this enthusiasm is equally matched as he reminisces about watching the amazing American jazz singer, Kurt Elling in London or Claire Teal with her astounding vocal improvisation in New Orleans.
When you're armed with a passion for something it is infectious and it drives you.  I (unfairly) asked Marcus which he'd choose to lose if he had no choice – his hearing or his voice.  He said that it would have to be his voice as he wanted to be able to listen to music up to the moment he dies.  And this never-ended quest to hear the next beautiful verse or melodic chorus isn't driven at all by ego – but for a love of music, a passion for the art and an appreciation of the performers – because he is one of them too.
Marcus and Matt would welcome the chance to speak to you about your requirements for music at your next event.  Please call us today on 0800 772 3906 or contact us here.