Have you ever been a guest at a wedding and experienced deja vu?  That unmistakable sensation that the very moment you're experiencing is identical to something you've experienced before.  Or perhaps you remember something funny from a wedding a few years ago but you can't actually place which wedding it was?  Not something you'd want to admit to the brides and grooms at the heart of the muddled matrimony but you're almost certainly not alone in this feeling.
Have you ever been a guest at a wedding and experienced deja vu………only joking!  There are certain words that you wouldn't want associated with your special day.  You wouldn't want obvious descriptions such as "disastrous", "tacky" or "boring" to rear their heads but there is another damning adjective which doesn't seem as cutting on the face of it but is driving couples around the world to do things differently –  and that word is "formulaic".
Whilst there is a comfort for some people in opting for the more reassuring approach of a wedding and / or a reception at a country house hotel or manor house, it is this familiarity which turns others off.  The thin-piled, hard wearing, royal blue carpets in the function rooms may be ideal for a corporate brainstorming afternoon but might not be a great fit with your floral arrangements.  The "shabby chic" decor in the hallways and reception rooms which were en vogue in 2002 now jar with the more rustic vibe you envisaged.  And the guest rooms leave you cold.
Lots of couples now opt for a "DIY" approach to their receptions in particular which has seen the booming of the wedding marquee industry.  And whilst this method can certainly save money and help you tailor the event closer to your needs it also presents it's own challenges.  Any wedding organiser or events professional will confirm that your event is only as good as your suppliers.  With a wedding, each component is vital.  One weak link in the chain can result in any of the following catastrophic outcomes: –
No toilets
No music
No wedding cake
Food poisoned wedding guests
No way of guests to get their cars out of a muddy field
At High Row Music we speak with a lot of brides and grooms as you might imagine.  And one of the most common sentences we hear in a brief is "we want something a bit different".  The array of musical talent we work with enables us to meet this need and we're always looking for like minded people in the music and wedding industry as we continually grow our network.  And recently we have partnered with Alexander Weddings & Events in Northallerton, North Yorkshire as their unique tipi wedding venue at Lake Henry demands a list of superlatives that couldn't be further from "formulaic" if it tried.  But better than us listing things like "astonishing lakeside views", "uber-funky glamping areas" or "the nicest people you could ever wish to meet" to describe Lawrence Alexander's wedding venue, we conducted a Q&A session with Lawrence and Wedding Coordinator Nina Copely so they can tell you themselves.
High Row Music: Can you tell us what Alexander Wedding and Events is in a sentence?
Nina:  We are a new tipi wedding venue with spectacular lakeside views in the heart of North Yorkshire's breathtaking countryside, offering the space, freedom and flexibility to make your wedding day your own.
High Row Music: So what makes you different?
Lawrence: We don't push anyone down a particular style.  You can visit the venue in advance and you really do have complete freedom at the venue to make it your own.  The beauty is that you're starting from a stunning start point anyway so it is hard to go wrong.  The setting is so unique that ideas tend to start flowing immediately on arrival which is so exciting.  When couples choose something like a manor house the style of the wedding is dictated somewhat by the venue – whereas at Lake Henry almost anything goes.  And if a couple need creative input we're more than happy to give them ideas and help them make it happen.
Nina: We also have hardwood floors throughout the venue.  Quite often with outdoor venues, and marquee style weddings in particular, only part of the floorspace is covered whereas with Lake Henry there is no need to worry about traipsing through wet grass.
High Row Music: What is it about tipis that make for great weddings and receptions?
Lawrence: I think it is the "festival vibe".  More couples are looking for a more intimate, cosy celebration and the tipi layout and the acoustics and texture of the canvas of the tipis really helps accomplish that – without the bad side of the festival vibes like portaloos! It's also the perfect venue to chill, have a glass of champagne whilst listening to a great singer or guitarist.
One of the real benefits of the Lake Henry site is that people can be in one of the tipis such as the dining area but the layout means that wherever you are you can see all of the other areas such as the dancefloor or the reception tipi.  This means that the wedding doesn't become disjointed but nan can have a rest after a boogie but still feels part of the action and can watch the grandchildren bust a move and watch the band.


High Row Music: What is the best wedding you've ever attended and why?
Nina: The best weddings are couple centric.  When the couple feel like the space is their own they can relax.  And when the couple relax, this makes everyone feel like they can let their hair down which makes for a comfortable and memorable experience.  Many of us have been to weddings with overbearing photographers barking orders like the gestapo so the fact that couples can choose their own suppliers at our venue means that they really can make it their own and replicate all of the best parts of the best weddings they've been to.
High Row Music: How important is the music to a wedding?
Lawrence: I believe it is in the top 3 along with catering and the venue of course.  Good music lifts the atmosphere and moments on the dancefloor are one of the main things guests will remember for years to come.
Nina: I think it can really make or break any event.  The music reflects the characters and the style of the bride and groom – or at least should do.  The guests feed off live performers in particular and this two-way relationship can really make for a memorable night
High Row Music: Couples are often looking for "something different" for their wedding.  How do you cater for this relatively vague brief?
Lawrence: Our customers are generally wanting the opposite of a formal, hotel wedding.  They don't necessarily want a sit down 3 course meal, they might prefer street food instead.  They don't always want a master of ceremony announcing speeches.  Essentially with our venue they can challenge some of the traditions without it feeling out of place.
High Row Music: How do you deal with the often challenging Yorkshire weather for your events?
Nina: We only operate Lake Henry between April and October so the very worst of the North Yorkshire weather is avoided.  We have a huge 10m2 reception area in the middle of the tipi structure so if the weather isn't cooperating the celebrant ceremony, speeches or outdoor reception can be easily moved inside or planned ahead.
There is no need for wellies at Lake Henry.  If it does rain then that can actually add something positive to the experience too as the cosy feeling of being in the tipis out of the rain is lovely and with solid decking outside even the smokers won't get their new brogues muddy.
High Row Music: Who do your clients directly deal with when they're working with Alexander Weddings & Events?
Lawrence: Only Nina and I.  We feel it is vitally important that we build a rapport and understanding with the couple and they don't get passed from pillar to post.  They can call our mobiles, email or come to site as the personal touch is so important.  We look to take the stress out of the situation.  We have over 30 years of combined experience in weddings and events so we both stay up to speed and both attend all weddings.  Nina tends to look after the planning and coordination and I tend to lean towards the logistics but we both dovetail with each other perfectly.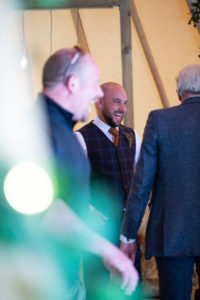 High Row Music: Other than weddings which other kinds of events do you cater for?
Lawrence: Essentially private, significant parties are our thing so vow renewals, anniversaries and birthdays are the other events we cater for.  Our venue can accommodate up to 160 seated guests and our "Wedding Village" has enough accommodation for 80 guests in 30 pods from twin up to family size.
We are also launching a pop up restaurant experience at the Lake Henry site in Summer 2021.  This will be a ticket only experience and will not only offer a unique dining experience with live performances but will also provide people with an exclusive means of experiencing the whole site without having to buy anyone a toaster or soda stream from a gift list.
High Row Music: What is it about High Row Music that made you want to become a partner?
Nina: All the musicians that High Row Music deal with are professionals.  This is really important as they understand how wedding entertainment works.  They know how to set up, how to work with an event venue and how to get the most out of the acoustics and the guests.
Lawrence: We love the way the website works too.  You can not only browse easily but you can hear the artists which helps you visualise the best fit for an event.  And with Matt being on our doorstep it makes it so easy to collaborate.  We trust the High Row Music brand and we're delighted to be a partner.
If you're still having reservations about a reservation reservation but you're interested in exploring Lake Henry in Northallerton as a potential wedding venue you can contact Lawrence or Nina on 07888 055 050 or email them at 
[email protected]
And if you're looking for some inspiration on the musical soundtrack to your wedding day please call us at High Row Music and we'd love to recommend some of our professional artists that we think are right for you.  Please call us on 0800 772 3906.