Some couples dread it, others relish it and dad-dancing, tipsy uncles are inspired by it.  "It" is the traditional first dance at a wedding, one of the most iconic moments at a wedding reception for the bride, groom, family and guests.  For most couples it may be the only time in their lives when potentially hundreds of people are watching their every dance move – a chance to shine and enjoy this unique, romantic moment.  In what is undoubtedly an important part of one of the biggest days of your life the last thing you want to become is the next YouTube or TikTok viral video – for all the wrong reasons as a dreaded "First Dance Fail".
The Origins of The First Dance
Nobody knows for certain who the first newlyweds were to take their place on the dancefloor but we can be sure that it happened way before Ed Sheeran songs could be heard in marquees across the globe.
It has long been traditional for the guests of honour to take the first dance in traditional balls which is likely to have started with royalty and aristocrats and then mimicked by the middle classes and beyond.  Originally this was of course a much more formal affair where a waltz was commonly seen.  Knowing how to dance a waltz was a skill taught at school so the upper classes were comfortable with this and a well executed first dance would have been met with an appreciative applause whereas there may be some modern weddings where an over-zealous friend might be heard shouting "Go on my son!" after the couple have chosen to mosh together for the duration of a heavy metal song or perhaps opted for a surprisingly touching dance to
Metallica's Nothing Else Matters like this couple
  who manage to combine a traditional dance with an unlikely song choice.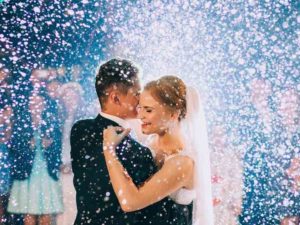 The Significance of The First Dance
The bride and groom, dancing in harmony (in most cases) is meant to symbolise a new unity and togetherness.  Apparently it is also a metaphor for the couple's future journey through life together.  Taken literally I'm not sure what that says about this couple who surprised their guests with
a very different interpretation of a first wedding dance.
The Bride and Father's Dance
Another tradition on the wedding dance floor is the second dance which is often led by the bride dancing with her father and the father trying not to cry for the 14th time that day.  This is also usually the queue for other prominent members of the family to pack the dancefloor to set the tone for the remainder of the reception and really get the party started.
Choosing Your First Dance Song
According to the
First Dance
website the most popular first dance songs in the UK in 2019 were as follows but it is also becoming more popular for couples to choose much more obscure songs which mean a special something to the couple rather than more of a more predictable love song which most of the top 10 represent.
A Thousand Years – Christina Perri
Learning to Dance Your First Dance
Winging it can be a daunting thought for extroverts or those of us with two left feet and this has led to more and more couples taking lessons in order to give them the confidence to look good on the dancefloor on their big day.  Whilst nobody expects a Strictly Come Dancing finalist standard, simply swaying on one another's arms can make a 4 minute song feel like 40 minutes for those of us who are more self conscious.
The majority of people choosing to learn to dance apparently tend to opt for a slow waltz as it is deemed the easiest ballroom dance for beginners.  And for those on a budget and a big enough front room, this can even be learned from
YouTube first dance tutorials
.
Live Band or DJ For Your First Dance?
It has become much more popular to move away from a DJ simply playing a song and to opt for a wedding band to deliver a unique (and sometimes even personalised) rendition of the first dance meaning the special moment is even more memorable and truly custom to that one moment in time.
There are of course benefits to both but for a truly unique experience a live band has no real competition.  Another often overlooked benefit is that a live band will take an occasional short break in their set – purely to rehydrate and catch their breath in what can be a very demanding and energetic performance.  These short breaks are often welcomed by the happy couple and guests as it offers a natural chance to have a chat too.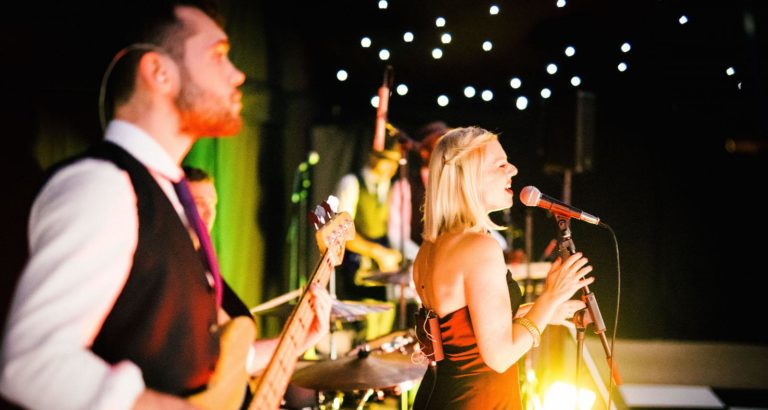 https://highrowmusic.com/band/the-funk-soul-few/
With "DIY DJing" becoming easier than ever it is now not a case that couples have to cover both bases as an iPhone with Bluetooth connection to a decent set of speakers is ample for the majority of venues to fill the short gaps in between the band – or perhaps to keep the very late night revellers happy long into the early hours of the morning.
Another great benefit of recruiting a wedding band is their versatility.  Not only can the band take requests from guests which will make their experience even more special but they are also often able to accommodate all or part of their performance outdoors, perhaps using acoustic instruments during the initial drinks reception.  The band is able to provide a true "soundtrack" to the whole event, including the all important first dance.
First Dance Fails Top 5
Now of course, even the best laid plans can sometimes go a little wrong but rest assured that it is likely that only you will notice.  That said, there are some exceptions and here are 5 of our favourites at High Row Music for you to "enjoy".
Number 5
What could possibly go wrong when the groom picks up the bride and begins spinning around on the dancefloor?
https://www.youtube.com/watch?v=mTHtR12DIn8
Number 4
The dry ice, the pyrotechnics, the spinning – there are so many hazards in this first dance video it feels like watching an instructional health and safety video at a work induction.
https://www.youtube.com/watch?v=H-sQb8DYBMo
Number 3
Okay, so this one isn't exactly a fail, but the bride thinks it is and it turns out rather lovely.
https://www.youtube.com/watch?v=rAmmvj-7g6o
Number 2
You know those weddings when the groom inexplicably walks into the marquee dressed like a pirate?  No – me neither.  But what happens afterwards is not only remarkable but also unremarkable in that there is no remark I'm able to think of that conveys my stunned silence as I watched what plays out.  Actually I've thought of one: "geriatric Steven Seagal".
https://youtu.be/ICMJdlNEMks
Number 1
There are only a few days when you can get away with making a grand entrance and then bust some of your top acrobatic moves.  But make sure you coordinate your landing with your partner.  No really, please practice……practice a lot.
https://youtu.be/baSsgq18Seo
At High Row Music we only offer the best musicians in the business as we recognise how important every single wedding day is to all involved.  We can help you choose the group that is right for you so you'll be delighted, not only with your first dance but your complete wedding soundtrack – avoiding a dreaded First Dance Fail in the process.