With a little bit more breathing space available after the mania of wedding season 2022, I find my self thinking back to memories of music we've performed, people we've met and the places we've visited over the summer. As the days shorten and the winter coats make their first appearance since spring, it's the time spent outdoors that provide the most vivid of these memories. Weddings in woods, marquees in flowered fields and intimate ceremonies in country gardens really give couples the opportunity to experience the best the British Summer has to offer even if the weather gods aren't on your side! If you're planning a wedding for 2023/4 it's worth thinking about ways you might incorporate an 'outdoor' aspect to your wedding day. UK based www.outdoorceremonies.co.uk specialise in this growing area of the wedding industry and work out of venues across the UK. What's more, they really believe that music can play a massive part in making it the best day ever!
At High Row Music we have battery powered speakers so you can still have any music you want even off grid.
"If music be the food of love, play on!" Music has come to form an integral part of wedding ceremonies. It really sets the tone for the event and helps to make the occasion so personal to you. Many people have favourite songs or music that they know they want played at the their wedding; others may need some guidance to choose the perfect pieces. So in this blog we hope to inspire you with some love songs, hymns and classical pieces that we think make ideal music choices for an outdoor wedding.
We'll cover music that works particularly well as processionals and recessionals (entrance and exit), some beautiful background music, and of course some good old singalongs!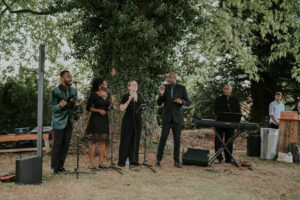 (Eclectic Harmony Gospel Choir – photo by @nicoleamyvisuals)
PROCESSIONAL MUSIC
This is the piece that will really get the ball rolling, as all the guests get on their feet to welcome the bride or groom. For opposite-sex weddings it is customary for the groom to stand at the front and watch his bride walk down the aisle as the music plays, but some couples like to mix things up and walk in together. For same-sex weddings, many couples like to follow this same tradition of one person waiting and one walking, while some walk in together – hand-in-hand or down two separate aisles. Whatever you choose, great music is essential!
Here's a few ideas just perfect for weddings in the great outdoors:
RECESSIONAL MUSIC
This is the climax of the ceremony when you've made your vows and can walk back down the aisle together as a married couple! It's a time for celebration and is often accompanied with confetti and lots of applause. Here's a few music ideas that work perfectly – some upbeat and celebratory, others reflective and optimistic (think walking off into the sunset, dreaming of the adventures that lie ahead):
HYMNS AND SINGALONGS
A good old singalong is a lovely way for you and your guests to join together in celebration of your marriage. If you would like to add a spiritual element to your ceremony then you may like to choose one or two hymns to sing. This would not be permitted in a registrar-led wedding as their ceremonies must be entirely non-religious, but if you choose a celebrant to conduct your wedding then they should be more than happy to accommodate this.
Alternatively, you could invite your guests to join you in singing an upbeat love song. This creates such a lovely atmosphere and really helps to get everyone in the celebratory spirit. It's best to choose a popular song so that your guests will be familiar with the tune. And of course for both hymns and love songs, be sure to have the lyrics printed in an order of service so that everyone will know the words! Here are a few ideas:
HYMNS
SINGALONG LOVE SONGS
BACKGROUND MUSIC
Background music is a great way to set the tone for the ceremony as your guests are arriving to take their seats. It's also a good idea to pick a piece or two to play while you are sitting down to sign your register or certificate. This is a nice opportunity for a 5-minute breather after all the excitement and emotion of making your vows, and a perfect opportunity for photos too.
Depending on your personalities and the type of outdoor wedding you're having, you may like to choose upbeat and uplifting songs, or relaxed and romantic pieces. Here's a few ideas to give you some food for thought:
CLASSICAL
LOVE SONGS